Performance Poetry & Writing Workshops


11925 Stone Circle Dr., Kewadin, MI 49648
231-264-9467 ~ stonecir@aol.com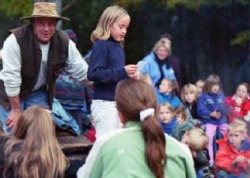 As a Poet Bard, Terry Wooten has taken his performance poetry and writing workshop program to thousands at K-12 schools, colleges, libraries, festivals and conferences from coast to coast for the past 30 years. He is a living anthology; weaving classic literature, ancient, contemporary and children's poetry, as well as his own work rich in humor and lore into an entertaining and educational program. His performances are variable, and can be arranged specifically for any age group.
Terry is a two-time recipient of Michigan Creative Artist Awards, as well as having been listed in the Michigan Arts and Humanities Touring Directory, and his Elders Project was awarded the 2013 State History Award in Education from the Historical Society of Michigan.
With a bioregional focus on people and place, he has written poems on diverse topics that range from Ernie Harwell radio broadcasts of the Detroit Tigers baseball games, to shipwrecks on the Great Lakes. He has published ten books and his work has appeared in numerous publications. His book,
Lifelines: A WWII Story of Survival and Love,
has been turned into a play production, forensic piece, used as a book of the month selection and as the foundation for school humanities projects.

Please contact Terry at the above address, email or phone for further information on his poetry performance or workshops programs for you school, library, festival or organization.
---
THE STONE CIRCLE
2020: We are sorry to say that Stone Circle will not be able to open this summer. Please follow Terry Wooten on facebook for occational Live Stream events. We hope to see you again next summer.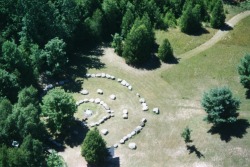 Terry is also the builder of the Stone Circle, a triple ring of 88 large boulders located north of Traverse City, designed to capture the atmosphere of ancient cultures that gathered in family and community groups to educate, entertain and exchange stories of everyday life and lore. Each summer he is host to other poets, storytellers, musicians and an audience of young and old who come to stir their tales in the communal brew that this unique recipe for communication offers.

The Stone Circle Documentary, filmed on its 30th Anniversary by a Spanish film crew, is currently making the rounds on the international film festival circuit. It was written and directed by Patrick Pfister. So far it has been shown at:
2017
Soo Film Festival, Sault Ste. Marie, MI
Royal Starr Film Festival, Royal Oak, MI
2018
Cinema on the Bayou Film Festival, Lafayette, LA
Las Cruces International Film Festival, Las Cruces, NM
CMU International Film Festival, Mt. Pleasant, MI
International Documentary Festival of lerapetra, Crete, Greece


---
"Terry Wooten's talent to entertain, motivate and excite our students with poetry inspires them to use their own artistic abilities in new and creative ways. His manner of presentation allows him to connect with his audience in ways that are truly magical."
Greg Crowe ~ Language Arts, Rockford Middle School

"…an everyday Homer writing as a modern bard for ordinary heroes."
Jane Karoline Vieth, PhD ~ Professor of History, MSU

"Terry Wooten is a fine poet in the tradition of Whitman and Williams. His work celebrates our history and our encounters with civilization. His poems show a humane and understanding heart, and a humor and wit that helps illuminate our daily lives."
Herb Scott ~ Poet and Professor of English, WMU

"We are both human and a furious beast, but poetry is words on a piece of paper. You taught me the meaning of poetry. You taught me that your brain has ideas and all you have to do is think to get them out! You changed something in me that nobody's changed before. I'm one of your biggest fans!"
Kari Charleston ~ 4th grade, Bridgeman Elementary